The Best Skincare Routine for Your 40s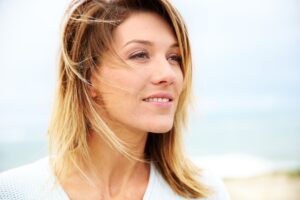 When you enter your forties, your skin won't be as forgiving as when you were younger. This is the decade where noticeable signs of aging may start appearing rather rapidly. So what's the best skincare routine for your 40s?
With duller and drier skin and more prominent laugh lines, it's time to change things up and get serious about skincare. Here's how.
Why Your Skincare Routine Needs to Change in Your 40s
Products made for twenty- and thirty-somethings won't meet your skin's needs now. You've matured, your skin has aged, and your complexion has likely changed, too.
The main reason why skincare in your 40s is different is because of extrinsic and intrinsic aging.
Extrinsic aging happens because of things outside of your body, such as UV exposure, sun damage, and pollution, which all affect you and your skin. These factors result in decreased collagen, hyperpigmentation (or sun spots), skin tone and texture changes, and fine lines becoming more prominent.
Intrinsic aging is the opposite—what happens inside your body causes your skin to age. Your biological organs (including your skin, which is your largest organ) change as you grow older.
Hormonal changes like perimenopause and menopause start in your 40s. This is marked by a decrease in estrogen. As a result, your skin becomes drier, thinner, and less radiant and elastic.
Realizing that your skincare routine needs to be modified? The products you use in your 40s should work to slow the visible signs of aging and protect your skin as much as possible.
What Steps Should You Include in Your New Skincare Routine?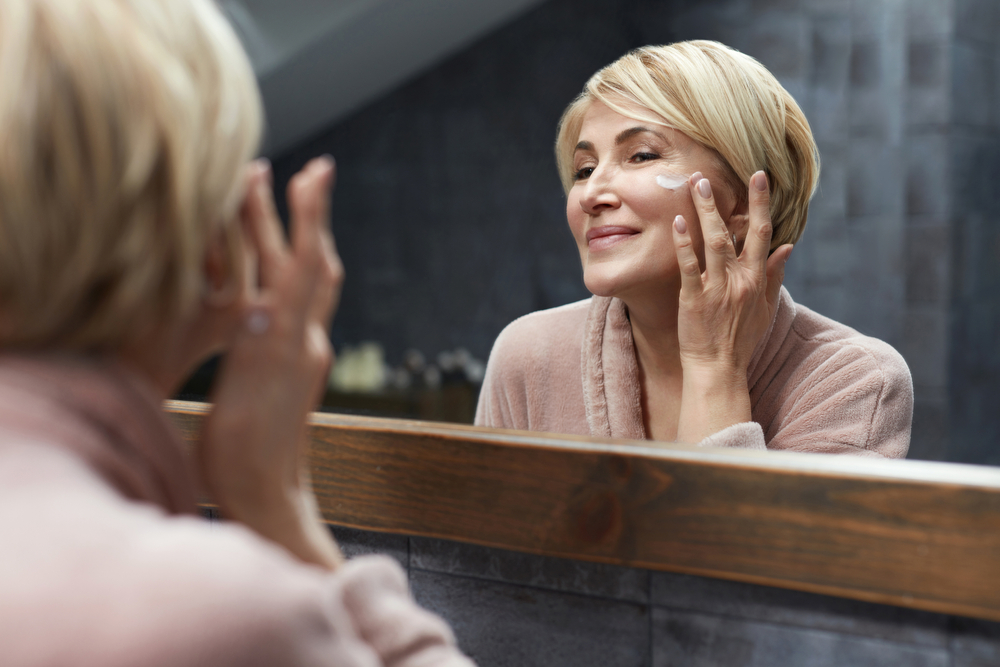 So what's the best skincare routine for women in their 40s?
You need a routine for every morning and every evening. The basic steps – clean, moisturize, and protect – will be the same during these periods, but there are a few other steps you need to include, too.
Morning Skincare Routine
Follow this morning skincare routine:
Cleanse
Tone
Add serum
Apply morning moisturizer
Use eye cream
Apply sunscreen
Evening Skincare Routine
Follow this evening skincare routine:
Remove makeup
Cleanse
Exfoliate (2-3 times a week)
Tone
Add serum
Apply night moisturizer
Use eye cream
Apply face mask (weekly; skip the moisturizer and eye cream)
What Are the Best Skincare Products for Your 40s?
Here are the best skincare products you must include in your routine:
Fresh Pick – Hemp Apple Stem Cell Anti-Aging Cream
You can use our Fresh Pick – Hemp Apple Stem Cell Anti-Aging Cream in your morning and evening routines. The cream harnesses the powers of apple stem cells and CBD. Both ingredients may help you look younger.
Apple stem cells, for example, could help reduce fine lines and wrinkles, while CBD is a powerful antioxidant to help slow the loss of collagen.
Face Time Cream – Collagen Retinol + CBD Revive Cream
Tighten your skin and increase radiance with our Face Time Cream. Powerful antioxidants, such as vitamin E and retinol (a vitamin A derivative), and collagen (one of the skin's building blocks) are some of the main ingredients.
Retinol helps increase collagen production to hydrate and smooth your skin. It may also reduce wrinkles so you appear younger.
CBD'Luxe – Eye Cream
You can't use your moisturizer to hydrate and protect the area around your eyes. This area needs more delicate ingredients.
So opt for our CBD'Luxe – Eye Cream. A combination of retinol, avocado oil, jojoba, and collagen could reduce fine lines, wrinkles, and puffiness.
Use the eye cream twice daily as part of your skincare routine.
Sunshine Serum – CBD + Vitamin "C" Serum
Use Clean Beauty and Wellness' Sunshine Serum in the morning before you apply a face and eye moisturizer and sunscreen.
Vitamin C helps protect your skin from free radicals. It can also hydrate your skin, fight wrinkles, and ensure your skin tone is brighter and more balanced. 
Enjoy the Best Skincare Routine for 40s!
Self-care shouldn't be a chore. Looking after your skin (no matter your age) is a form of caring for yourself and should be an essential part of your lifestyle. It's time to make skincare in your 40s a priority.
The best skincare routine for your 40s starts with choosing the right products. Then stick with your morning and evening routines to see the most benefits.
Clean Beauty and Wellness is here for you – all the way. We focus on clean beauty and use the best ingredients, from hyaluronic acid and avocado oil to apple stem cells, vitamin C, collagen, and CBD.
Remember: Your 40s is the new 30s, so you can stay young!