Ingredient Spotlight: Vitamin C
We all know that getting enough vitamins is essential for our overall well-being. But do we really understand why we need them and what they do for us? We're going to take a closer look at one super vitamin — vitamin C — and why its such an important ingredient in our CBD skincare products.
Recently, vitamin C has become increasingly popular in skin care products and anti-aging creams and has been added to CBD face oil too. Vitamin C is a key ingredient in keeping you feeling and looking healthy.
We're going to take a closer look and explain how it could be the missing ingredient in your skincare routine that will have your skin looking vibrant and healthy.
What Is Vitamin C?
Let's zoom out and find out what this commonly known vitamin is. Vitamin C, or ascorbic acid, is a water-soluble vitamin derived from glucose metabolism.
Our body cannot synthesize vitamin C on its own, so it's important to source it from our diets.
While vitamin C provides plenty of benefits for the body, such as boosting your immune system, some of its other functions are its role in producing collagen and as a powerful antioxidant, which leads to positive outcomes for our skin.
What Role Does Vitamin C Play in Skin Care?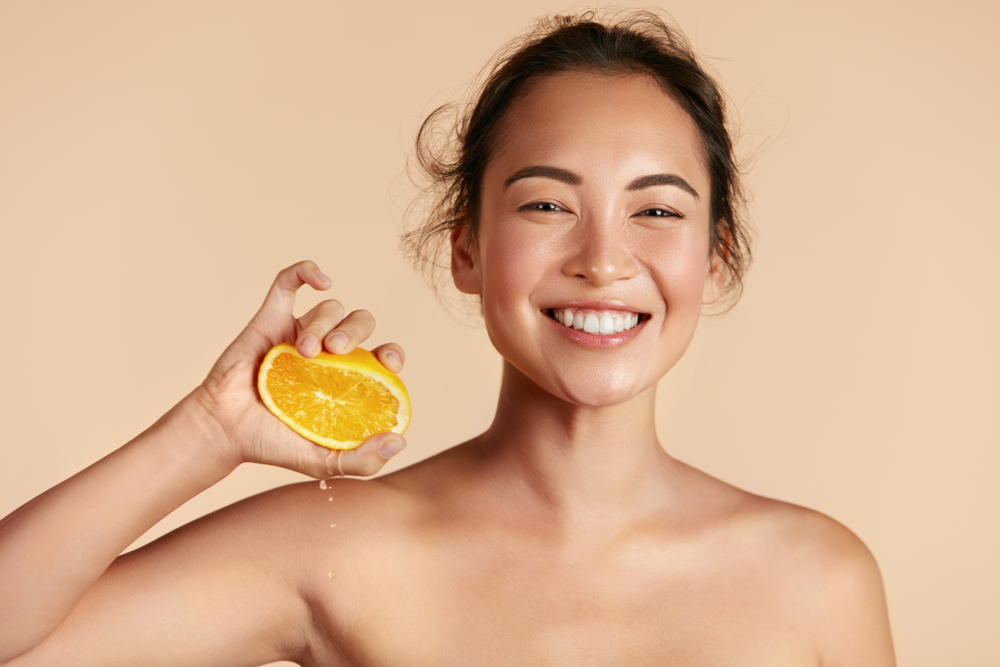 We all love CBD skincare, but did you know that vitamin C also plays a crucial role in your skin's appearance and health?
Normal, healthy skin is high in vitamin C, with a higher concentration on the outermost layer, called the epidermis. 
The most apparent evidence of vitamin C's importance for our skin can be seen when looking at individuals with vitamin C deficiencies. They can experience poor wound healing, increased bleeding under the skin, skin fragility, and even scurvy in severe, rare cases.
Vitamin C plays a role in collagen formation, protects against oxidants, and can decrease melanin synthesis. Let's look more closely at three of the top reasons to incorporate vitamin C into your daily skincare routine.
Top 3 Benefits of Vitamin C for your Skin
1. Brighter, More Balanced Skin
Signs of aging appear on our faces due to natural reasons, such as the passage of time and external environmental factors. Our skin is exposed to air pollution, harsh weather, and damaging ultraviolet radiation (UV) daily, aging our skin.

UV radiation is one of the most significant contributors to age spots and hyperpigmentation. One study showed that vitamin C helped reduce the damage by UV exposure and helped reduce the appearance of age spots.
Vitamin C also inhibits melanin synthesis, slowing sunspots' formation and frequency, leaving your skin more balanced overall. Skincare products like this Sunshine Serum could be the answer to brighter, younger-looking skin.
2. Fighting Wrinkles and Dryness 
Vitamin C promotes collagen formation. Collagen is crucial for maintaining your skin's elasticity and stretchiness. A recent study found that taking a collagen supplement significantly improved skin hydration, elasticity and roughness.
Another study looked at vitamin C supplements and found clinical evidence that adding vitamin C into your routine promoted collagen formation and noted a drastic reduction in wrinkles after 12 weeks of use.
As you age, it becomes more difficult for your body to produce collagen on its own. Adding vitamin C into your diet and skincare routine can give your body that extra boost it needs to create more of this powerful anti-aging agent, combating wrinkles and dry skin, leaving your skin more balanced.
3. Defends Your Skin 
Daily exposure to UV radiation and environmental pollutants produces free radicals. These harmful oxidants increase signs of aging from wrinkles, saggy skin, and dark spots.
Vitamin C acts as a powerful antioxidant and plays a vital role in neutralizing oxidants. It reduces damage from these free radicals which play a role in breaking down collagen. An increase in Vitamin C will also neutralize these pesky invaders, in addition to helping create more collagen. If you want to give your skin a fighting chance against harmful environmental factors, vitamin C is definitely the way to go. 
Harness the Power of Vitamin C and CBD Skincare
We've created a powerful CBD skincare product in our Sunshine Serum by combining vitamin C and CBD oil. Cannabidiol (CBD) is another powerful agent that is under investigation for skin conditions such as eczema, psoriasis, and inflammation. 
If you're looking for a simple step to improve your skin's overall health and leave your skin looking younger and brighter, adding a vitamin C and CBD skincare into your routine is a step in the right direction.