Is CBD The Skincare Ingredient Of The Future? Beauty Experts Say Yes – Here's Why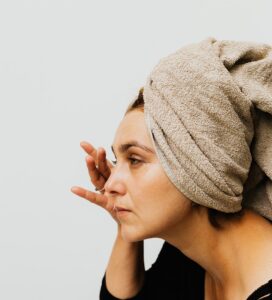 If you've been following beauty trends and your favorite TikTok influencers as of late, you've seen the huge surge in popularity around natural, plant-based…EVERYTHING. Plant-based diets, haircare, and of course skincare routines have taken the industry by storm, and conscious ingredients are now an expectation of customers and retailers alike.
But long before liquid chlorophyll and bentonite clay were added to every bedroom vanity across the globe, hemp extracts were making waves for natural skincare enthusiasts looking to tackle a myriad of issues; from acne, to dryness, to fine lines and more. Today, hemp has become a main and highly potent ingredient in facial cleaners, moisturizers, oils, and even retinol creams – but what makes this elixir-esque ingredient really work? If you've been looking for the true secrets behind hemp's magical skin-healing powers, look no further.
For starters, it's important to note that the skin contains receptors that are naturally built to work hand-in-hand with hemp extracts, which we believe is why these two are a match made in skincare heaven. Learn more about the receptor-hemp connection here.
Hemp is also known for its antibacterial and antifungal properties, which can lend a hand to those suffering from a multitude of skin conditions, namely acne. In previous years, mainstream skincare products touting themselves as being the miracle cure for acne contained harsh chemicals and acids. For the most part, these chemicals did effectively remove excess sebum and bacteria, but they also completely wiped out all of the good oils that our skin needs, leaving users dried out, scarred, and with even more acne than they started with.
Hemp-based products provide an equally effective yet much gentler solution for acne-prone skin. Not only can hemp prevent the creation of too much sebum, but it also can ward off infections, and can even lessen the appearance of acne scars! To top it all off, hemp oils naturally soothe skin and reduce irritation, so users don't have to deal with dryness, one of the main "cons" of chemical solutions.
You may now be thinking to yourself, "Okay, I'm glad people with acne have found their miracle product, but what about those with more mature skin?" And to that question we respond, "Never fear, hemp is here to save the day!" But seriously, is there anything that this mighty extract CAN'T do?
On top of acne fighting and prevention, adding hemp oils to skincare products has been known to prevent the appearance of aging and wrinkles, effectively treat infections on the skin, moisturize and soothe eczema and psoriasis, prevent inflammation, and so much more! Case in point: if you're dealing with anything from crow's feet to a topical rash, it is likely you can find relief with hemp!
If you're curious about the powers of hemp and the impact it can have on your skincare routine, be sure to check out our line of clean beauty products for all your face and body needs. Our hemp is 100% organically grown in the U.S., pesticide free, non-GMO and fully compliant with the State Department of Agriculture regulations.
Got questions about hemp? Contact our team for more details, or visit our FAQ page!